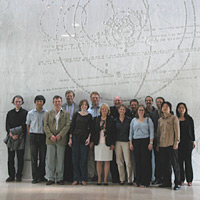 The InterAction Collaboration meeting participants in front of the giant particle event wall at KEK.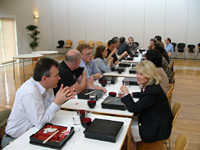 The InterAction Collaboration enjoyed a Japanese boxed lunch one day with the new KEK Director Atsuto Suzuki.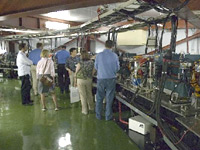 Meeting participants inside ATF at KEK.
Last week the InterAction Collaboration met at KEK in Tsukuba, Japan for a special meeting dedicated to International Linear Collider communications. As the newest members of the InterAction Collaboration, the ILC communicators join representatives from particle physics laboratories in Asia, Europe and North America whose goal is to increase support around the world for fundamental particle physics research. In addition to the InterAction Collaboration members, representatives from the ILC Steering Group Americas Communications Committee, ILC European Outreach Committee and the Linear Collider Forum of Japan also joined the meeting.
"We have changed the way particle physics communicates around the world," said Fermilab's Head of Public Affairs Judy Jackson. "Now we have an opportunity to take it to the next level. The ILC gives us the chance to do something in communication that no one has done before because the ILC is like nothing done before. It gives us the chance to think outside the box."
Approximately ten months after the formation of the Global Design Effort, this meeting provided an opportunity to review and discuss the ILC communication activities thus far, including a strategic communication plan, press release procedures, ILC NewsLine and print materials, such as a brochure. This past spring, the ILC communicators started working together with a designer to develop a brochure for the project. Each communicator will have a preview copy of the brochure available for review at the ALCPG-GDE meeting in Vancouver this July. They encourage you to share feedback and suggestions before the final brochure will be printed and made available this fall. (Even if you don't have any comments for the brochure, stop by and visit your ILC communicators in Vancouver anyway. Rumour has it that they will have power strips and plug adaptors on hand.)
In addition to planning future print materials for the ILC, including an explanatory companion document for government officials and policy-makers that would accompany the Reference Design Report, the collaboration also discussed incorporating plans for future ILC visitor's facilities into the machine design now. "We need to think now about how to make the science experience real for people," said Barbara Warmbein, Communications Director ILC-Europe. "Whether it's the sheer size or visual appeal or even the smell of an accelerator, there is just no substitute for seeing the real thing. We don't want to wait until it is too late to develop such a visitor's plan."
The collaboration also received a tour of KEK, including ATF and the cavity preparation facilities, and of Japan's massive construction site J-PARC. The next meeting of the InterAction Collaboration will be at DESY on 9-10 October.
-- Elizabeth Clements