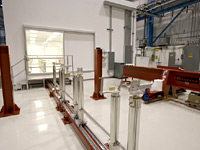 A rail system runs under the entire clean room, where the cavities rest and await assembly.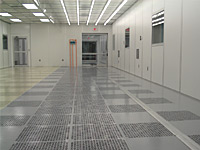 The Class 10 area in Fermilab's new clean room.
Earlier this summer in June, Fermilab's Cryomodule Assembly Facility gained a brand new state-of-the-art clean room. Just like the delight you get from the smell of a brand new car, Fermilab's Cryomodule Assembly Facility literally has that pristine, perfectly clean look and feel to it. And the goal is to keep it that way. "The trick is to keep your room as clean as possible," said Fermilab's Tug Arkan, a cryomodule production engineer.
Designed for stringing eight superconducting radio frequency cavities together for International Linear Collider R&D, the 2500-square-foot clean room is divided into three sections to accommodate each stage of the intensive assembly process. Rated according to the number of particles per cubic foot, Fermilab's clean room contains a Class 1000, Class 100 and Class 10 areas. The first section, a Class 1000 Ante Clean Room, is a prep room where the cavities and other peripheral parts get submerged in ultrasonic baths to reduce the particle count to less than 10 - a critical step before entering the next stage of the assembly process. With less than 10 particles per cubic foot, the Class 10 Cavity String Assembly Area is a cleanaholic's dream. Inside this area, technicians will assemble the dressed cavities to form a string. "If required, with two shifts running per day, one string of eight cavities per week could be assembled in this infrastructure for a small scale mass production," Arkan said.
So with scientists and technicians constantly entering the room, not to mention all of the equipment and cavity string components, the big question is how do you keep a clean room clean? "The key is laminar air flow," Arkan said. "The class 10 area has more filters and more floor perforations in it to constantly keep air flowing. Every six seconds 100% of the air in the clean room changes with 90 feet per minute laminar air flow speed." Working closely with DESY scientists, who described their ideal clean room scenario, and consultants, who specialise in building clean rooms for major corporations, Fermilab sought expert advice for every step of the process. Any person who enters the room must first "gown up" in special head to toe gear – no make-up, perfume or lotion allowed, and this is just a small part of the strict clean room protocols that will be enforced for the cavity string assembly clean room. Fermilab also ordered special tables and carts that have perforations in them to allow air to constantly flow through. "Everything is specially designed for a clean room – even the paper," Arkan said.
While designing and building the clean room took three months, setting up the clean room is an arduous task in itself. Every single item – from the garbage can to the complex equipment -- must be perfectly pristine before entering the space. Using special clean room wipes and ionised nitrogen gas to push the particles away, cleaning a table or a shelf takes two days alone. "We are now training our janitorial staff on how to clean this room," Arkan said. "You have to use special detergents, and there are special ways to wipe things down. It's a challenge to keep clean."
Fermilab plans to assemble the first string in the new clean room this fall. A cold mass will then get installed to the string and be transported to Fermilab's Industrial Center Building for the final steps of the cryomodule assembly process. The completed cryomodules will then be shipped to Fermilab's ILC Test Area for testing inside the beam.
-- Elizabeth Clements