Conventional Facilities and Siting Group Well Represented at VLCW06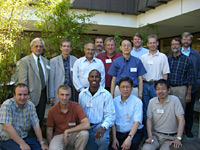 The Conventional Facilities and Siting Group at VLCW06.

Fifteen members dedicated to conventional facilities and siting for the International Linear Collider participated in the Vancouver Linear Collider Workshop 2006 – a record number for the group. Prior to the workshop through their weekly videoconferences, the three group leaders, Jean-Luc Baldy of CERN, Vic Kuchler of Fermilab and Atsushi Enomoto of KEK, encouraged everyone to attend the meeting in Vancouver. The outcome resulted in participants from Fermilab, SLAC, CERN, KEK and JINR.

"There are enormous benefits to having everyone come face to face and participate with the other area systems and with their points of contact," Kuchler said. "These formal and informal discussions are essential to the progress that we have been able to make so far."
Read more...

-- Elizabeth Clements


From Physics Today
August 2006
Beijing collider intensifies focus on tau–charm physics
A major upgrade of the Beijing Electron–Positron Collider will give it the world's highest luminosity in the collision energy range 2 to 4.2 GeV, a physics-rich niche that, China's high-energy physicists hope, will attract international collaborators.
Read more...
---
From Newsday.com
30 July 2006
Asleep at the Collider
Elementary particle physics - the study of the smallest components of matter: the parts inside the parts inside the atom - is at a crossroads in the United States.
Read more...
---
From Fermilab Today
28 July 2006
Community Task Force Begins ILC Preparations
Members of Fermilab's Community Task Force met Tuesday night to discuss community outreach principles as the lab pursues the proposed ILC.
Read more...

Reflections on VLCW06: Physics and Detectors

Jack Gunion reviewed ILC Terascale Physics at VLCW06.

The University of British Columbia, located in beautiful Vancouver, was the venue of a joint American Linear Collider Planning Group (ALCPG) and GDE workshop, attended by 300 participants from 19-23 July. The programme ranged from very practical issues such as cost estimates for the ILC to discussions of the latest theoretical developments in the field. Such a broad programme is the result of our concerted efforts to bring ILC detector/physics and accelerator communities closer together. Holding joint meetings enables us to inform each other and to work together on problems of mutual interest, like the joint science performance of the accelerator and detectors.
Read more...

-- Barry Barish


VLCW06 Talks Available Online
Talks from the Vancouver Linear Collider Workshop 2006 are available online.
Learn more...
Need a job?
Check out the ILC jobs page. Recent postings include two lectureships in astrophysics and a lectureship in experimental particle physics.
Learn more...
---
ILC Related Preprints
hep-ph/0607280
25 Jul 2006
Lepton non-universality at LEP and charged Higgs

hep-ph/0607270
25 Jul 2006
LHC / ILC / Cosmology Interplay

The single-cell ICHIRO cavities that achieved an accelerating gradient in excess of 50 mV/m.
More info..