From CERN: ICHEP 2010 conference highlights first results from the LHC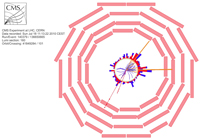 A candidate for production of a top quark pair in the CMS detector.

Geneva, 26 July 2010. First results from the LHC at CERN1 are being revealed at ICHEP, the world's largest international conference on particle physics, which has attracted more than 1000 participants to its venue in Paris. The spokespersons of the four major experiments at the LHC – ALICE, ATLAS, CMS and LHCb – are today presenting measurements from the first three months of successful LHC operation at 3.5 TeV per beam, an energy three and a half times higher than previously achieved at a particle accelerator.

With these first measurements the experiments are rediscovering the particles that lie at the heart of the Standard Model – the package that contains current understanding of the particles of matter and the forces that act between them. This is an essential step before moving on to make discoveries. Among the billions of collisions already recorded are some that contain 'candidates' for the top quark, for the first time at a European laboratory.
Read more...


Upcoming meetings, conferences, workshops
Upcoming school
---



From Fermilab: Fermilab experiments narrow allowed mass range for Higgs boson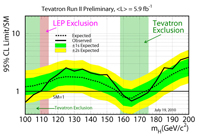 Observed and expected exclusion limits for a Standard Model Higgs boson at the 95-percent confidence level for the combined CDF and DZero analyses.

Batavia, Ill. – New constraints on the elusive Higgs particle are more stringent than ever before. Scientists of the CDF and DZero collider experiments at the U.S. Department of Energy's Fermilab revealed their latest Higgs search results today (July 26) at the International Conference on High Energy Physics, held in Paris from July 22-28. Their results rule out a significant fraction of the allowed mass range established by earlier experiments.

The Fermilab experiments now exclude a Higgs particle with a mass between 158 and 175 GeV/c2. Searches by previous experiments and constraints due to the Standard Model of Particles and Forces indicate that the Higgs particle should have a mass between 114 and 185 GeV/c2. (For comparison: 100 GeV/c2 is equivalent to 107 times the mass of a proton.) The new Fermilab result rules out about a quarter of the expected Higgs mass range.
Read more...


From New Scientist
27 July 2010
What comes after the Large Hadron Collider?
Read more...
---
From Le Figaro
27 July 2010
La révolution de la physique des particules est en marche des deux côtés de l'Atlantique
Read more... (in French)
---
From Scotsman
27 July 2010
Search for the Big Bang... but Large Hadron Collider is not large enough
Read more...
---
From Inovação Tecnológica
27 July 2010
Sucessor do LHC deverá ser colisor de partículas linear
Read more... (in Portuguese)
---
From BBC Radio 4
26 July 2010
PM programme
Brian Foster on the International Linear Collider (Only 1 day left to listen. Begins at 0:54:13)
Listen...
---
From BBC News
26 July 2010
When 1,000 particle physicists collide
Read more...
---
From Reuters
26 July 2010
La recherche, meilleure arme contre la crise, dit Sarkozy
Read more... (in French)
---
From msnbc.com
26 July 2010
Atom-smashing scientists seeking Bigger Bangs
Read more...
---
From Agência Estado
26 July 2010
Cientistas querem construir novo colisor de partículas
Read more... (in Portuguese)
---
From Courrier International (blog)
26 July 2010
Nicolas Sarkozy, le CNRS et les "campus virtuels"
Read more... (in French)
---
From AFP
26 July 2010
Les physiciens affinent leur traque de la "particule de Dieu"
Read more... (in French)
---
From Le Monde
26 July 2010
Enseignement supérieur et recherche, "la solution" pour sortir de la crise
Read more... (in French)
---
From Associated Press
26 July 2010
Le collisionneur du futur à l'étude
Read more... (in French)
---
From CBC news
26 July 2010
Physicists call for new atom smasher
Read more...

Paris and politics
Today's issue features a Director's Corner from Brian Foster, Global Design Effort European Regional Director.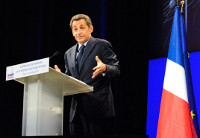 Nicolas Sarkozy speaking at ICHEP. Image: Marco Delmastro

I write this "Director's Corner" in my hotel room while attending the 35th International Conference in High Energy Physics in Paris — the most important event on the particle physics calendar. Barry Barish will write in more detail on the conference in future "NewsLines". I want to take advantage of the strong ILC showing at the Conference to highlight my talk in one of the parallel session on ILC "Governance".
Read more...

-- Brian Foster


Physics and the President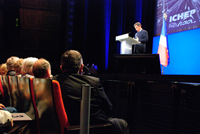 Nicolas Sarkozy, President of the French Republic, addressed the participants of the ICHEP conference on Monday, July 26th, 2010. He stressed the importance of investing in science and education especially in times of crises and called particle physics "the most beautiful human adventure." Read the full speech or watch a recording of it on the ICHEP website. Image: Marco Delmastro.

More images here.

ILC Internal Document
2010-046
ILC Global Design Effort - Project Managers' Report - June 2010

arXiv preprints
1007.3671
What can we learn at ATF2 concerning ILC backgrounds?

1007.3326
Bounding the Z'tc coupling from D0–D0bar mixing and single top production at the ILC