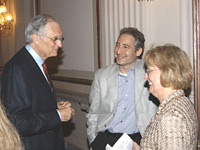 Quantum Universe Meets Hollywood: Actor Alan Alda (left), a science supporter and host of the PBS series "Scientific American Frontiers," chats with Brian Greene (center) and Representative Judy Biggert (right) at the R&D Caucus on 9 May in Washington D.C.
Have you ever tossed a ball at a wall, playing a game of one-man catch? As you tossed that ball again and again and again, have you ever thought about the chance that it could go right through the wall? According to quantum mechanics, this is a real possibility. "It's a small probability, but it is there," said renowned physicist and author Brian Greene, who addressed the Congressional Research and Development Caucus Advisory Committee in Washington, D.C. last week.
"The ideas of modern physics are so strange that they sometimes seem to not have any relevance to real science," he said. "What's stunning is that that there is a chance that we might be able to test these ideas within the next five to six years."
Beginning with Sir Isaac Newton's laws of gravity to lead up to the modern-day string theory, Greene told the story of Einstein's quest to find a "unified theory" of the universe: a single, all-encompassing framework for explaining the cosmos. "How did the universe begin?" Greene asked. "We can make use of the laws that we know to determine what happened to a fraction of a second after it started. A main goal of the unified theory is to discover what happened in the beginning of the universe."
After explaining the theory of relativity, quantum mechanics and string theory all in the span of an hour, Greene also briefly mentioned the modern tools that physicists can use to answer some of the universe's deepest mysteries. "We slam stuff together and see what happens," he said. Referring to the construction of the Large Hadron Collider, Greene explained how scientists can look at the debris from the particle collisions to learn if such ideas as dark matter, supersymmetry and extra dimensions are real. "This machine will test many things," he said. "If this experiment bears fruit, think about what that means. Every time we put our minds to it, we have been able to make progress. We have never hit a wall, and I believe that some day we will understand that fundamental forces of the universe."
Greene's talk titled, "Reaching for Einstein's Dream: The Quest for the Deepest Laws of the Universe," was part of an event hosted by House Science Committee members, Representative Judy Biggert and Representative Rush Holt to officially launch the new High Energy Physics Advisory Panel publication "Discovering the Quantum Universe," a companion volume to the "Quantum Universe."
At the caucus, the Director of the Department of Energy's Office of Science, Raymond Orbach, presented the report, which explains the discovery opportunities at the Large Hadron Collider and the proposed International Linear Collider. "We are living in a world that we still don't really understand," Orbach said. "We don't know what happened at the beginning of the universe, and the ILC, referred to as Einstein's telescope, will allow us to go back in time and see what happened. This is a wonderful time for us to be alive. There are so many questions of wonder and beauty that exist, and we have a shot of answering them."
-- Elizabeth Clements