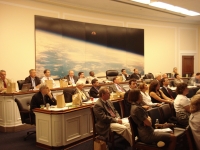 Attendees at the LCFOA Capitol Hill industrialisation briefing listening to Marc Ross describing the ILC TD phase plan
The Linear Collider Forum of America (LCFOA) held an ILC industrialisation meeting and briefing for Congressional staffers on Capitol Hill on 29 July. The briefing was attended by 46 persons from universities, industry, and laboratories and Congressional staff. About half of the attendees were Congressional staffers. The objective of the briefing was to emphasise the importance of a strong industrialisation component within the Americas Regional Team's Technical Design effort, describe other potential benefits of the ILC technologies for industry and the country, and to recommend the economic and educational benefits of siting the ILC at a U.S. site during the Technical Design phase timeframe to the U.S. audience.
Speakers at the briefing included Ken Olsen, president of the LCFOA, Bob Kephart from Fermilab, Mike Harrison, ILC-GDE Regional Director for the Americas, Paul Grannis from Stony Brook University and Marc Ross, GDE project Manager and member of the Americas Regional Team. Four members of the LCFOA Board of Directors, Parsons Communications Power Industries, Meyer Tool and Advanced Energy Systems made statements on the potential positive impact the ILC and its technologies will have on their future business scenarios. The talks are posted on the LCFOA web site www.lcfoa.org.
-- Ken Olsen, LCFOA president