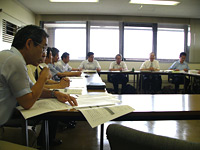 Nine members of the Linear Collider Subcommittee of Japan Society of Civil Engineers met with the ILC representatives of KEK and the University of Tokyo on 8 August.
Members of the Japan Society of Civil Engineers (JSCE) met with ILC physicists at KEK on 8 August, during a meeting of the Committee Board of Technical Committee on Civil Engineering Issues for the Linear Collider Project, or "LC subcommittee".
"Our society addresses the technical and engineering challenges of large-scale civil engineering," says Professor Norikazu Shimizu of Yamaguchi University, the subcommittee chair. "We have a lot of interest in the many kinds of challenges for building the ILC. This meeting is really useful to get a precise description of the project by having a frank and face-to-face discussion."
The subcommittee was formed under the Society's Committee on Rock Mechanics and the Committee on Tunnel Engineering Committee on 1 June 2006. Expected to operate for two years, the 59 members are organised into five working groups:
Planning and project and management.
Geological survey, test, and environmental design.
Structural and environmental design.
Construction and maintenance.
Information investigation of ILC.
Nine members of the subcommittee met with seven representatives from KEK and the University of Tokyo at the meeting. "We are very encouraged to work with these civil engineering experts," says Mitsuaki Nozaki, Asian regional director of GDE. "This subcommittee is a great help to approach the realistic and precise cost breakdown of our project."
-- Nobuko Kobayashi