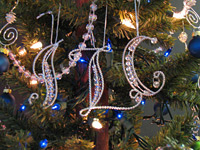 No doubt which colours dominate on the Christmas tree in the GDE secretariat: ILC blue and ILC green of course!
As NewsLine is taking a break for a week over the holidays, we (the editors) were getting a little worried about our readers – would you have enough interesting material to read next week (apart from RDR drafts, DCR chapters and companion documents, naturally)? The GDE Directors – who probably get through many books per year on long flights – didn't hesitate to help out. Here's what they recommend for some restful holiday reading. Interestingly, not a single text book or popular science piece is featured in the list! Enjoy and happy holidays!
Gerry Dugan, Regional Director Americas
The Eyre Affair — by Jason Fforde
A fantasy novel which details the exploits of Thursday Next, a sort of detective in an imaginary world, in which the appreciation of literature is orders of magnitude greater than in our own. If you enjoy this book, there are several others by the same author, Jason Fforde, in which Thursday Next is featured in different adventures.
Jonathan Strange and Mr. Norrell — by Susanna Clarke
A very entertaining fantasy novel by the author Susanna Clarke; amazingly, it is her first novel. It is set in England in the 19th century, and describes the adventures of two magicians who re-introduce the art of magic to England, which has been lost since the 12th century. The characters are fascinating, the prose is excellent, and there is plenty to enjoy: the book is close to 800 pages long.
---
Mitsuaki Nozaki, Regional Director Asia
Shiji — by Sima Qian
If you enjoyed reading the Iliad or Odyssey, you will be fascinated by the Chinese history Shiji, which means historical record, written by Sima Qian (B.C.145~86). Shiji is not just a sequence of historical facts, but a set of interesting stories about people who played various roles in history, from the Emperors to assassins. His record starts at the half-myths era about 3000 years ago and ends at the Emperor Wu, a contemporary of his. Many virtues and wisdom we Japanese learned from our parents, teachers and society originate from this history book. You will also be entertained by political games, treacheries and battles like in the Iliad. I found several English translations in online bookstores.
Memoirs of a Geisha — by Arthur Golden
When I was looking for a book at Charles de Gaulle airport on my way from Valencia, a picture of a Japanese girl dressed in Kimono came into my view. It was curious for me that the book was on the bestsellers shelf. I quickly read some notes on the back cover and was surprised to find that it was written by an American. For some reason the word Geisha, together with Fuji-yama and Sukiyaki, is one of the words representing Japan. Although I was suspicious at first of a foreigner's view about a Japanese special profession and tradition which even most modern Japanese are not familiar with, I realised that the author's understanding is excellent. It is more than an ordinary success story of a miserable girl grown up to be a notable geisha.
---
Brian Foster, Regional Director Europe
The Wealth of Nations — by Adam Smith
Given our current activities, I suspect all of the EC should be assigned The Wealth of Nations as holiday reading! Personally I will be reading Gore Vidal's latest book, his second book of memoirs, Point to Point Navigation. The first volume, Palimpsest, was a joy: irreverent, full of scandalous detail about the people Vidal has encountered in a long life, including the Kennedys and the British Royal Family, witty and wise.
As a collector of first editions, I have a row of books on my shelves waiting to be read: most by John Updike, in my view the greatest living writer in English; the next largest number by Vidal. However, as a holiday indulgence I think I will skip straight to Vidal's latest offering and prepare to be very seriously informed and amused.
---
Barry Barish, GDE Director
The Master and Margarita — by Mihail Bulgakov
This is a profound political (anti Stalinist) novel published in the 1950s, but written 30 years before, during the Stalinist regime. It is an allegorical novel of great imagination, even having a talking cat as a main character. An amazing novel.
One Hundred Years of Solitude — by Gabriel Garcia Marquez
A hundred-year chronicle of a village in Columbia. Marquez grapples imaginatively with the concept of time and the circularity of history, while writing a beautiful novel, introducing "magical realism" into the writing of a novel. This is a great novel that also has had a large influence on the art of the novel.
The Sound and the Fury & As I Lay Dying — by William Faulkner
Finally, as an American, I would be remiss not to offer an American Novel. There is no one comparable to Faulkner. Among the Faulkner novels it is very hard to choose which to suggest. The Sound and the Fury is usually regarded as his greatest or maybe most popular novel, but my choice is the more challenging: As I Lay Dying by William Faulkner is an ambitious non-linear stream of consciousness rendition told as many different interior monologues by family members dealing with fires, floods etc to bury their matriarch where she requested. Faulkner's writing style in this novel even included using recognizably different "voices" for the different characters.
---
And if you can't do without science over the holidays, check out the recommendations from nature: an article about what's special about popular science books and their list of the best popular science books of 2006.