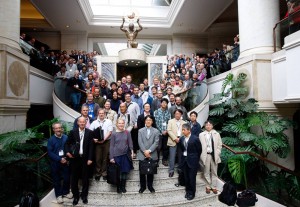 The yearly international Linear Collider Workshop took place from 6 to 10 October 2014 in Belgrade, organised by the Vinca Institute of Nuclear Sciences. The workshop gathered researchers from Europe, Asia and America primarily involved in the linear collider projects ILC and CLIC. Approximately 200 participants took part from 84 institutions in 21 countries.
The President of the Republic of Serbia Tomislav Nikolic addressed the participants at the opening session, emphasising the importance of fundamental science and international co-operation. After this note the workshop continued with a format familiar to the linear collider community – plenary sessions on Monday and Friday, and parallel sessions from Tuesday to Thursday. A measure of the hectic activity is that there were 243 talks in the course of five days, most given by young researchers presenting new studies and results. The workshop webpage and talks are available here.
Both ILC and CLIC have defined several key challenges to address during the second half of 2014, and the workshop provides an excellent opportunity to discuss and conclude on some of these challenges. For ILC the ongoing process in Japan related to site-specific studies and providing the information needed to national committees and decision makers are highest on the priority list. A restructured international ILC accelerator team has been established and this team is getting up to speed on these challenges. Another key issue discussed was to establish a running/luminosity scenario addressing Higgs and top physics – to mention the two most obvious areas – in the best possible way. Detector optimisation studies were a focusing point for both ILC and CLIC detector versions. For CLIC the physics studies are moving from Higgs towards beyond-the-Standard-Model topics in preparation for whatever LHC at 13-14 TeV will unveil, and the accelerator collaboration reviewed the status and goals for next phase and in particular the rapidly increasing interest for using X-band technologies in smaller accelerator projects which will be very beneficial for the technology.
On the social side, a welcome drink, a reception, an art exhibition and reception, a dinner and a public lecture gave ample opportunity to discuss with colleagues and friends outside the workshop events.
The entire workshop was very well organised and the local organising team, led by Ivanka Bozovic-Jelisavcic was deservingly praised for their planning, efforts and hospitality.
Looking ahead to 2015 the linear collider workshops are already in planning. The yearly CLIC workshop will take placefrom 26 to 30 January at CERN and registration is already open.
The Asian Linear Collider workshop is planned for 20 – 24 April in Japan, and registration is expected to open within a few weeks. This workshop, taking place at a critical time for the ILC project development, will offer a good opportunity for participants to witness the project status of the ILC in Japan. It will include an open symposium in Tokyo promoting the ILC project to a wider audience.
Finally, the 17th International Linear Collider workshop (LCWS 2015) is planned to take place in the Vancouver area, arranged by TRIUMF, during the first week of November 2015. This date is still somewhat tentative and subject to availability of facilities but we hope it can be confirmed soon.
Please mark these in your calendar and make your planning as needed to participate in these workshops.