JINR Director-Designate Alexei Sissakian Expresses Interest in ILC Collaboration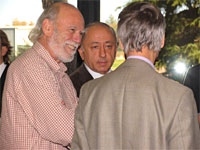 JINR Director-Designate Alexei Sissakian (center) attended the recent GDE meeting in Frascati.


Alexei Sissakian, Director-Designate of the Joint Institute for Nuclear Research (JINR) located in Dubna, Russia, recently attended the Frascati GDE meeting. Vladimir Kekelidze and Grigori Shirkov accompanied Sissakian.

"This is a very useful meeting.", Sissakian said. "JINR would like to become more involved with the ILC, and we have lots of experience with accelerators and detectors. All 18 member countries in our region would be involved, and we think this would be useful for the project."
Read more

--Elizabeth Clements


Indian Institute of Science Hosts Linear Collider Workshop 2006

With the conclusion of last week's GDE meeting in Frascati, all eyes are focused on the next major ILC venue - Bangalore. The Indian Institute of Science will host the 2006 Linear Collider Workshop (LCWS 2006) in Bangalore, India from 9-13 March 2006. A GDE meeting will run in parallel to LCWS on 9-11 March 2006.

Organized by the World Wide Study and GDE, this upcoming workshop is a continuation in the series of linear collider meetings that started in 1991. Approximately 400 scientists and engineers attended the most recent Linear Collider Workshop, which took place at Stanford in March 2005.
Read more

--Elizabeth Clements


Upcoming meetings, conferences, workshops
SiD Workshop
Fermilab, 16-17 December 2005

American Linear Collider Physics Group - Detector Simulation Workshop
Boulder, Colorado, U.S.A., 9-11 January 2006

Open Symposium on European Strategy for Particle Physics
LAL, Orsay, France, 30 January-1 February 2006

LCWS 2006
Bangalore, India, 9-13 March 2006

International Symposium on Detector Development in Particle and Astroparticle Physics and Synchrotron Radiation
SLAC, April 3-6, 2006

International School for Linear Colliders
Sokendai, Graduate School for Advanced Studies
Hayama, Japan, 19-27 May 2006

Frascati Meeting Concludes with BCD Recommendations and New GDE Structure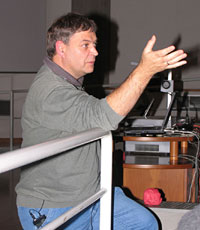 Nick Walker kept the BCD session of the meeting under control with a "rotten paper tomato" on hand.


Following last week's meeting in Frascati, the GDE members and other attendees returned this week with only a few minor bumps and bruises from an onslaught of "rotten tomatoes".

"I was afraid that each speaker would need a flak jacket to present each portion of the Baseline Configuration Document because this is the chance for everyone to say what they didn't get to say before.", said SLAC's Tom Himel, who opened the session, "Discussion and Approval of the BCD" at the Frascati meeting.
Read more

--Elizabeth Clements


First Workshop to build a Spanish ILC Network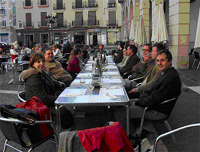 Some of the attendees of ILC Spanish Workshop waiting for their "paella valenciana" in Gandia.

On 1-3 December 2005, Spain held its first Workshop on the ILC in the "Palau Ducal" in the city of Gandía, province of Valencia (Spain). About 70 researchers attended the meeting and all high energy physics laboratories were represented. This meeting aimed to present the ILC and its progress to the Spanish Particle Physics community. Some groups had individually already expressed interest in the ILC, but they determined that a national network was necessary. "Because of the limited resources we have in Spain, the only way to contribute effectively to the ILC is to focus and coordinate our work between the different groups.", said Spanish Physicist Juan Fuster, director of the Institute of Corpuscular Physics (IFIC) in Valencia and co-organiser of the workshop, in a recent interview.
Read more
Photo page
Talks from the Gandia workshop

--Perrine Royole-Degieux



From Fermilab Today
13 December 2005
State Officials Visit Fermilab
The International Linear Collider presents not only a great opportunity for Fermilab, but also for the local community and the State of Illinois. This is the message that Fermilab director Pier Oddone shared with Jack Lavin, director of the Illinois Department of Commerce and Economic Opportunity (IDCEO). Lavin, his Chief of Staff, Kristi Lafleur, and Chris Meister, Managing Director, Legislative Affairs, visited Fermilab on November 29. They came to the lab to receive more information on a proposal that Fermilab had sent to the State of Illinois for funding.
Read more



Change Control Board
Last week at Frascati, we successfully established the baseline configuration that will serve as the basis for the ILC reference design and costing to be carried out next year. There was consensus on most decisions. I would characterize the final configuration as somewhat conservative, due to my design guidance that choices should be forward looking and, consistent with creating a baseline that we will be able to reliably cost next year. In the Baseline Configuration Document (BCD), we also discuss alternatives that need more R&D, but could improve the performance or lower the cost of the ILC. At the same meeting, we established a new Configuration Control Board (CCB) that will complete the BCD, maintain the configuration, and evaluate and decide on proposed changes. Nobu Toge of KEK will chair the CCB.

Configuration Control is a commonly used project management tool that is employed in large complicated construction projects, in order to enable a complete and unique description to be made at any given time. Potential changes are systematically evaluated for their impact on performance, cost and risk before being adopted by a change control board. We are incorporating this type of project management tool at this time for the ILC, because we are planning to perform a reference design and costing over a very short period of time next year. To succeed in achieving the design and costing as planned, we will need to have a stable and well-documented configuration.

The first task for the CCB will be to complete the documentation in the BCD and to develop the procedures to be used for proposing and evaluating suggested changes to the baseline. In addition to maintaining the baseline, the CCB will assess R&D projects on alternatives that are defined in the BCD. The CCB will analyze and define what needs to be demonstrated for each of these R&D projects, in order to be seriously considered for a CCB action to replace the baseline.

The CCB will function in the usual responsive role for such boards regarding proposed changes. They will also play a more pro--active role in defining R&D that could lead to potential changes to the configuration that improve performance or reduce costs. The CCB will assess the alternatives documented in the BCD and define what will need to be demonstrated for each of these items, in order to be considered for a change action.

This important role for the CCB will help us to focus, define and prioritize the R&D programs, for a global R&D Board that was also established at Frascati. I will discuss the R&D board in a future column.

--Barry Barish


NewsLine Holiday Schedule
NewsLine will be going on vacation during the weeks of 19 December and 26 December. NewsLine will return on 5 January 2006. The GDE Communicators wish you all a very happy holiday! See you in the new year!
Prefer plain text?
ILC NewsLine is currently distributed in HTML format. There has been some interest expressed in having NewsLine distributed in a plain text version as well. If you would prefer a plain text version, please tell us about it.
ILC Related Preprints
hep-ph/0512133 - Dark Matter Constraints on Gaugino/Higgsino Masses in Split Supersymmetry and Their Implications at Colliders, 11 Dec 2005